Automated Media Preparation for Plant Genomics
The Systec MediaPrep and MediaFill are ideal for in-house media-making for a variety of plant genomics and cultivation applications such as plant tissue culture, cannabis genomics, micropropagation, genetically engineered and modified organisms and more. We're happy to discuss how these instruments fit into your lab work flow.
Download Brochure

Systec MediaPrep Automated Media Sterilizer
Prepare and sterilize media in less than 90 minutes! From small scale to large scale media preparation, we have a system to meet your plant media needs.
Highly effective heating and cooling
Powerful heating elements allow for rapid heating of the media. Active cooling is achieved by water circulation and support pressure. Rapid heating and cooling means the fastest cycle times possible for your high through-put lab.
Easy and safe to handle
The door locking mechanism utilizes a safety feature which prevents inadvertent opening when unsafe temperature and pressure conditions exist.
High quality media
An automatic process guarantees uniform, reproducible, sterilized media. The entire process from initial heating and mixing through sterilization and cooling is microprocessor controlled. In addition, the temperature to be maintained after sterilization can be user-defined. Start by clock feature allows MediaPrep to start cycle at pre-determined time; media can be ready for pouring upon arrival by staff.
Safe dispensing of media
The prepared sterile media is dispensed via a flexible tube, either by adjustable pressure within the chamber or by a separate peristaltic pump, perfect for magenta boxes. Direct connection to the MediaFill plate pourer provides a completely closed media dispensing solution including deep dishes.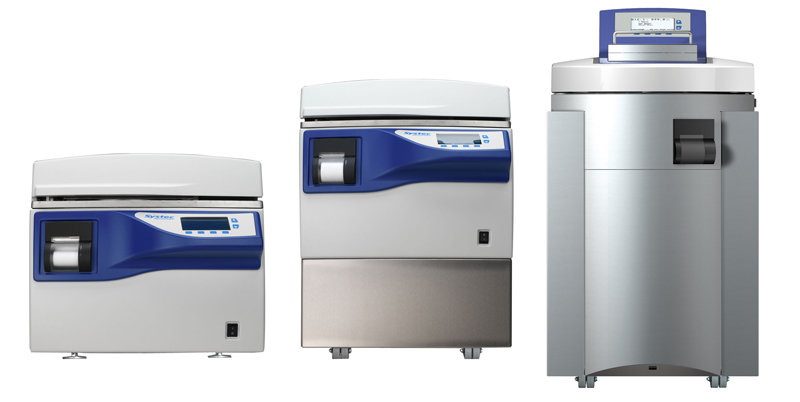 Systec MediaFill Automated Plate Pourer
Closed system for pouring
The MediaFill Plate Pourer is the perfect companion to the popular MediaPrep line of automated media sterilizers. Connect MediaFill to MediaPrep and you have a completely closed and sterile walk-away system for media preparation and plate pouring. MediaFill can automatically pour 90mm, 60mm and 35mm diameter dishes and can accommodate up to 26mm deep dishes, with a processing rate of 900 plates per hour.
Intuitive operation, precise pouring
MediaFill is controlled via an intuitive touch screen interface and includes a database of Petri dish brands to insure reliable operation with your dish supplier of choice. Three carousel sizes: 220, 440, 600 plates.
Features include Peltier cooling for reducing plate condensation and shaker function for improved media distribution.
The integrated peristaltic pump insures precise filling of media, a second pump is available for simultaneous dispensing of blood or other additives. Both pumps feature DropStop™ control which prevents dripping of media between dish dispensing.
MediaFill is manufactured with a frictionless ring and stepper motors for silent and precise operation.
Sterile dispensing and easy cleaning
The smooth aluminum surface is easy to clean with no holes or gaps where media can flow into. Shaft seals are installed on every moving axis to avoid media penetration into the internal components of the machine. MediaFill also utilizes a UV lamp with 2.3 W UVC light emission ensuring sterile dispens- ing of media.