Cannabis Industry Journal
January 10, 2018
By: Kathy Knutson, Ph.D.
Click here to link to the original article at CannabisIndustryJournal.com
Microbiology 101 Part One introduced the reader to the science of microbiology and sources of microbes. In Part Two, we discuss the control of microorganisms in your products.
Part 2
The cannabis industry is probably more informed about patients and consumers of their products than the general food industry. In addition to routine illness and stress in the population, cannabis consumers are fighting cancer, HIV/AIDS and other immune disorders. Consumers who are already ill are immunocompromised. Transplant recipients purposely have their immune system suppressed in the process of a successful transplant. These consumers have pre-existing conditions where the immune system is weakened. If the immunocompromised consumer is exposed to viral or bacterial pathogens through cannabis products, the consumer is more likely to suffer from a viral infection or foodborne illness as a secondary illness to the primary illness. In the case of consumers with weakened immune systems, it could literally kill them.
The cannabis industry shoulders great responsibility in both the medical and adult use markets. In addition to avoiding chemical hazards and determining the potency of the product, the cannabis industry must manufacture products safe for consumption. There are three ways to control pathogens and ensure a safe product: prevent them from entering, kill them and control their growth.
Prevent microorganisms from getting in
Think about everything that is outdoors that will physically come in a door to your facility. Control the quality of ingredients, packaging, equipment lubricants, cleaning agents and sanitizers. Monitor employee hygiene. Next, you control everything within your walls: employees, materials, supplies, equipment and the environment. You control receiving, employee entrance, storage, manufacturing, packaging and distribution. At every step in the process, your job is to prevent the transfer of pathogens into the product from these sources.
Kill microorganisms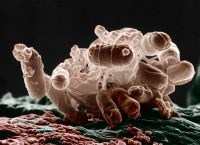 Colorized low-temperature electron micrograph of a cluster of E. coli bacteria. Image courtesy of USDA ARS & Eric Erbe
The combination of raw materials to manufacture your product is likely to include naturally occurring pathogens. Traditional heat methods like roasting and baking will kill most pathogens. Remember, sterility is not the goal. The concern is that a manufacturer uses heat to achieve organoleptic qualities like color and texture, but the combination of time and temperature may not achieve safety. It is only with a validated process that safety is confirmed. If we model safety after what is required of food manufacturers by the Food and Drug Administration, validation of processes that control pathogens is required. In addition to traditional heat methods, non-thermal methods for control of pathogens includes irradiation and high pressure processing and are appropriate for highly priced goods, e.g. juice. Killing is achieved in the manufacturing environment and on processing equipment surfaces after cleaning and by sanitizing.
If you have done everything reasonable to stop microorganisms from getting in the product and you have a validated step to kill pathogens, you may still have spoilage microorganisms in the product. It is important that all pathogens have been eliminated. Examples of pathogens include Salmonella, pathogenic Escherichia coli, also called Shiga toxin-producing E. coli (STEC) and Listeria monocytogenes. These three common pathogens are easily destroyed by proper heat methods. Despite steps taken to kill pathogens, it is theoretically possible a pathogen is reintroduced after the kill step and before packaging is sealed at very low numbers in the product. Doctors do not know how many cells are required for a consumer to get ill, and the immunocompromised consumer is more susceptible to illness. Lab methods for the three pathogens mentioned are designed to detect very low cell numbers. Packaging and control of growth factors will stop pathogens from growing in the product, if present.
Control the growth of microorganisms
These growth factors will control the growth of pathogens, and you can use the factors to control spoilage microbes as well. To grow, microbes need the same things we do: a comfortable temperature, water, nutrients (food), oxygen, and a comfortable level of acid. In the lab, we want to find the pathogen, so we optimize these factors for growth. When you control growth in your product, one hurdle may be enough to stop growth; sometimes multiple hurdles are needed in combination. Bacteria, yeast, and mold are present in all environments. They are at the bottom of the ocean under pressure. They are in hot springs at the temperature of boiling water. The diversity is immense. Luckily, we can focus on the growth factors for human pathogens, like Salmonella, pathogenic E. coli, and Listeria monocytogenes.
The petri dishes show sterilization effects of negative air ionization on a chamber aerosolized with Salmonella enteritidis. The left sample is untreated; the right, treated. Photo courtesy of USDA ARS & Ken Hammond
Temperature. Human pathogens prefer to grow at the temperature of the human body. In manufacture, keep the time a product is in the range of 40oF to 140oF as short as possible. You control pathogens when your product is at very hot or very cold temperatures. Once the product cools after a kill step in manufacturing, it is critical to not reintroduce a pathogen from the environment or personnel. Clean equipment and packaging play key roles in preventing re-contamination of the product.
Water. At high temperatures as in baking or roasting, there is killing, but there is also the removal of water. In the drying process that is not at high temperature, water is removed to stop the growth of mold. This one hurdle is all that is needed. Even before mold is controlled, bacterial and yeast growth will stop. Many cannabis candies are safe, because water is not available for pathogen growth. Packaging is key to keep moisture out of the product.
Click here to continue reading the full article at CannabisIndustryJournal.com