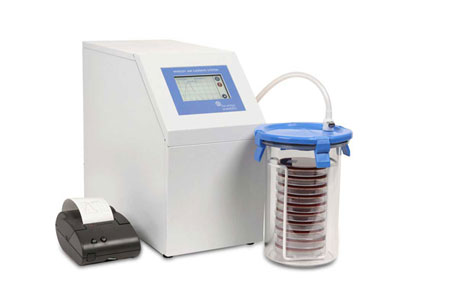 Campylobacter jejuni is a Gram-negative microaerophilic organism, which means it has a requirement for reduced levels of oxygen. It is relatively fragile, and sensitive to environmental stresses (e.g ., 21% oxygen, drying, heating, disinfectants, acidic conditions). Because of its microaerophilic characteristics the organism requires 3 to 5% oxygen and 2 to 10% carbon dioxide for optimal growth conditions. This bacterium is now recognized as an important enteric pathogen.
Surveys have shown that C. jejuni is the leading cause of bacterial diarrheal illness in the United States. It causes more disease than Shigella spp. and Salmonella spp. combined.
Download Brochure
Features
Create a microaerophilic environment perfect for Campylobacter in just 15 seconds
Reduces cost compared to gas generating envelopes
Perfect for the culture of small numbers of microaerophiles
Eliminates need for gas packs
Full color touch screen display with real time monitoring
Optional printer for traceability
Automatic detection of jar leakage
Your current jars can be adapted for use with our system
Easily access, add or remove plates from your jars, replace lid and run a new cycle
Easily access, add or remove plates from your jars, replace lid and run a new cycle
Incorporates PIN code protected user access levels for additional security
Small foot print, saves bench space
FAQ's
How does the EZ-Campy System work?
For microaerophilic conditions the EZ-Campy System removes half the air in the jar one time and replaces this with anaerobic gas mixture.
Is a Jar Gassing System right for me?
While obligate anaerobes should be processed using an anaerobic workstation, a jar gassing system is suitable for facultative anaerobes and microaerophiles. The evacuation and replacement method is considered to be the most efficient way to create microaerophilic conditions within a gas jar. The EZ-Campy System produces conditions this way without any of the disadvantages of gas generating envelopes. There is no chemical waste and condensation levels are much lower, so plates are more convenient to handle and read following incubation.
---
Specs
EZ Campy System
Dimensions
(W x D x H) mm
200 x 400 x 350
Weight Kg - lbs
16.6 - 36.5
Gas Requirements
1 x ANO2
(10% H2, 10% CO2, 80% N2)
Gas Consumption
(on average)
Varies depending on use
Power Requirements
110 V, 50-60 Hz
Regulator Outlet Range
2-6 bar (30-90psi)
Stainless Steel Jars
9-Plate
48-Plate
Overall Height
220 mm
330 mm
Internal Depth
140 mm
250 mm
Maximum Diameter
185 mm
255 mm
Internal Diameter

155 mm
215 mm
Capacity
3 Liters
10 Liters
Weight
1.2 kg
2.7 kg
---
**Microbiology International does not recommend jar gassing systems for the isolation of obligate anaerobes. Anaerobic jar gassing systems require users to inoculate samples and handle the agar plates on the bench at atmospheric oxygen levels which can reduce the recovery rates for a range of clinically significant strict anaerobes. Jar gassing systems are suitable for facultative anaerobes and microaerophilic samples. An anaerobic workstation is recommended for strict anaerobic samples to insure maximum recovery, isolation and identification.
Accessories
Microbiology International offers two different types of anaerobic jars, plastic or stainless steel, that are compatible with your EZ-Campy System. The plastic jars have a 9-plate capacity and the lids are fitted with carrier clips for catalyst sachets used for anaerobic cycles. The jars will vent automatically if too much pressure is applied.

---

The stainless steel jars are available with a 9-plate capacity or 48-plate capacity. They are the most durable jars offered, and are constructed to last sample after sample. The lids are fitted with carrier clips for catalyst sachets used for anaerobic cycles. The jars will vent automatically if too much pressure is applied.

---

Printer for printing out data for traceability and accreditation purposes

Also Available

Adaptor kit for jars fitted with pre-drilled holes

Oxiod low temperature catalyst (pack of 5)
---
Featured Video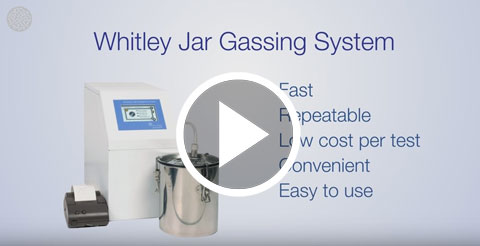 Whitley Jar Gassing System