We regularly receive inquiries from customers with regard to which disinfectants can be safely used inside Whitley Anaerobic Workstations. Although it is not possible to evaluate every available product, we have tested the materials compatibility of several sporicidal disinfectants and can now provide comprehensive advice on this topic.
---
How often should I clean my workstation?
Don Whitley Scientific, the manufacturer of our anaerobic cabinets product line, recommend that as part of the daily checks, users ensure that the workstation is free from spillage and cleaning carried out as necessary. Prior to having your workstation serviced, however, it may be necessary for it to be decontaminated.
---
Which disinfectants have Don Whitley Scientific tested?
Spor-Klenz – peracetic acid (approx 0.1%) + hydrogen peroxide (approx 1.0%) – "ready to use" product, tested without further dilution.
Chemgene HLD4H – quaternary ammonium compounds (approx 1%) + chlorhexidine digluconate (approx 1%) – "ready to use" product, tested without further dilution.
Safe Hospital – hypochlorous acid – "ready to use" product, tested without further dilution.
Tristel Fuse – chlorine dioxide (approx 1%) – prepared from concentrated components according to manufacturer's instructions.
For more information on these tests, please see the appendices of your Whitley Workstation user manual.
---
Which of the above products are OK for use in a Whitley Workstation?
Our tests demonstrated that each of these formulations is satisfactory for use in Whitley Workstations and will not cause any damage when used in accordance with the manufacturer's recommendations.
---
What if I want to use a cleaning agent not on the above list?
Other disinfectants containing the active ingredients listed above, at similar concentrations to those shown, can also be safely used inside Whitley Workstations. If you wish to use a disinfectant containing active ingredients not listed here, please contact us for advice before proceeding.
---
Why should I contact Microbiology International for advice – will any damage not be covered under my warranty?
Unfortunately, we cannot cover, under the equipment's warranty, any damage caused to a Whitley Workstation as a result of exposure to products that have not been approved.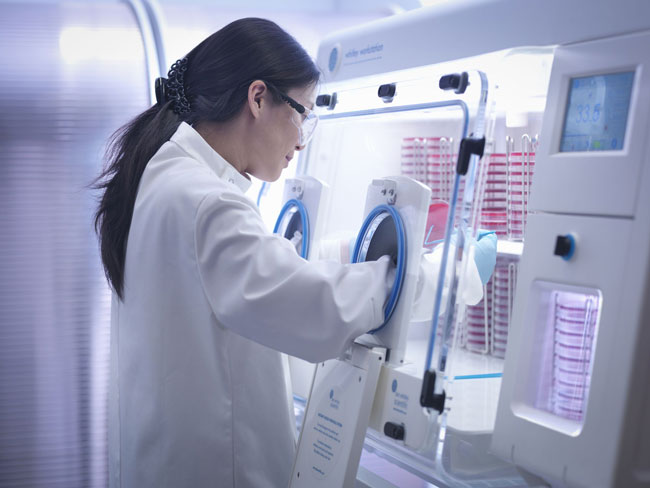 ---
Can I use Virkon as my preferred sanitising solution?
After a thorough study lasting 20 weeks, we concluded that the presence of any uncovered containers of Virkon in anaerobic and variable atmosphere workstations leads to the degradation of stainless steel, brass and some other metal components. The effect is more considerable when oxygen is present in the selected gas mixture. These conclusions are supported by technical information available on the Virkon manufacturer's website and independent observations by an Institute of Materials metallurgist. If Virkon is the preferred sanitising solution these adverse effects can be minimised by ensuring that Virkon within any workstation is always kept in a covered vessel when not in use.
---
OK, so what's the best way to clean the acrylic parts of a Whitley Workstation?
The transparent and/or white acrylic on the inside and outside of the Whitley Workstation System may be swabbed with a 2% solution of Labdet 100 (Part number: 01-C072) in warm water and dried afterwards with a soft clean cloth. In the case of culture spillages then any of the disinfectants listed above solution should be applied to the spillage and left for 30 minutes. It should then be mopped.
Notice: Never use any solvent on the acrylic surfaces of the workstation. Use only water and a mild detergent solution (i.e. Labdet 100 2% solution) as a cleaning agent.
---
What if the spillage leaks underneath the floor of the workstation?
If spillage is not contained on the working surface then access underneath this area will be required in all Whitley Workstations except the DG250. Some workstations require the removal of retaining bolts before the floor can be lifted up or pivoted for cleaning underneath. If liquid has been spilled upon the Anotox and catalyst sachets they should be removed, dried and/or replaced.
---
How can I deal with scratches on the acrylic plastic surface of my workstation?
Scratches may be removed by gently polishing the surface with 'DURAGLIT WADDING' followed by wiping with a soft clean cloth. Deep scratches may require the use of Wet and Dry abrasive paper used wet, followed by polishing with 'DURAGLIT' – seek advice from Microbiology International.
---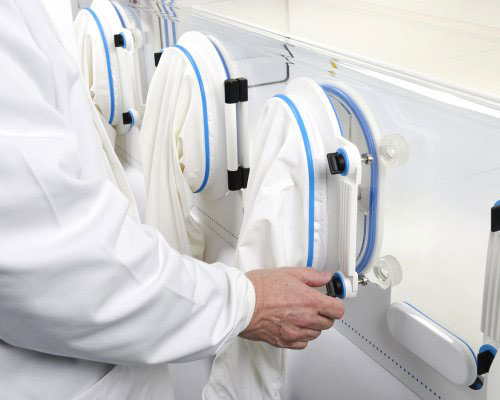 How can I clean the sleeves on my workstation?
The white sleeves used on all Whitley Workstations may require cleaning after periods of extended use. There are a number of options for cleaning and some recommendations listed below:
Wipe with a mild detergent
Wash or dry-clean with a detergent up to 75ºC
For disinfection use Sodium Hypochlorite (at no more than 1000ppm active Chlorine) or any of the disinfectants listed above
Do not use Biological or Phenolic based cleaners
Wash and dry completely before storage
Some surface wrinkling may occur.
---
If you have any remaining concerns about disinfectants for use in Whitley Workstations, please contact us
View all Anaerobic Workstations