Microaerobic workstation; 4-gas system with built-in gas sensing technology
The Whitley Workstation M35 is a Microaerobic workstation ideal for the study and isolation of Campylobacter spp, Helicobacter pylori and other similarly fastidious organisms. This is a 4-gas system with built-in gas sensing technology that allows you to program precise gas concentrations and is perfect for manipulating samples in a sustainable Microaerobic environment.
---
Features:
A rapid, 12 liter airlock that can transfer 40 plates in only 60 seconds
---
For total flexibility, up to four gases – nitrogen, carbon dioxide, air and a 10% hydrogen/90% nitrogen mix – can be combined within safe and varying ratios to provide a specific atmosphere for your experiments.
---
This unit can accommodate up to 600 x 90mm Petri dishes
---
Intuitive color touch screen interface with PIN-code protected user access levels
---
Data download facility that allows you to record workstation parameters and download stored data in seconds for traceability and reference.
---
A range of optional accessories, such as HEPA filtration, removable front and automatic humidification, are available to customize this workstation to your specific requirements.
HEPA Filtration

Internal HEPA filtration system provides a high degree of product / sample protection within the unit. Quickly creating and maintaining a particle-free environment (tested down to 0.3μm - exceeding ISO 14644-1 Class 3)
---
Trolley

Our custom-designed trolley frees up bench space and allows the chamber to be moved. The trolleys are built with high quality tubular steel and smooth rolling lockable wheels. They offer a sturdy and stable frame to support your use of our anaerobic and Microaerobic workstations.


See Details
---
Gas Pressure Monitor

Designed as a method of monitoring the gas supply. The system will indicate the status of both sides of the switchover: FULL – IN SERVICE, and DEPLETED. When a cylinder or cylinder bank is depleted, the green light will change to a red light, and the audible alarm will sound.


See Details
---
Humidity Control

500ml external reservoir, control relative humidity up to 85% via touch screen. Humidity is created via a boiler plate and introduced as sterile steam
---
Removable Front

Easily remove front panel for convenient cleaning and introduction of larger equipment/objects
---
15cm Letterbox

Ideal for quickly introducing small quanitites of samples and supplies
---
Spare Cable Gland

Used to accommodate a power or data cable without affecting the chamber conditions
---
Data Logging

Access temperature, humidity, chamber pressure and anaerobic conditions. Stores up to 30 days of system information, accessed via USB port.
---
Internal Storage Trays

Maximum 2 per unit; positioned under the shelf
---
10 Plate Dish Rack

Easily stack and move 10 petri dishes. Prevents spills with a rigid design
---
Featured Videos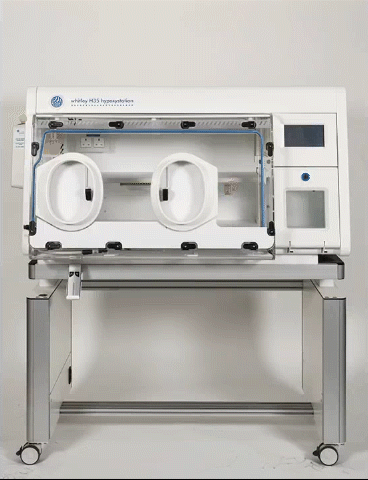 Motorized Trolley