January 22, 2020
By: David J Neal
Click here to read the original article at www.miamiherald.com
Sham Gardens Excellent Tahina, in 800-gram (1.76-pound) and 400-gram (14.1-ounce) containers, has been recalled in eight states after Michigan's Department of Agriculture found salmonella in a random sample.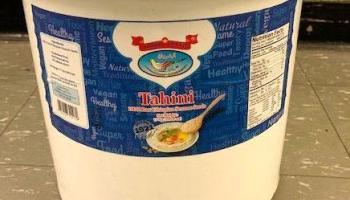 Five Star Foods said the affected tahini went to Florida, New York, Texas, Ohio, North Dakota, Virginia and Pennsylvania as well as Michigan. The recalled containers product codes are TAH806SG (800 gram) and TAH400SG (400-gram). Both have a best by date of November 2020.
Customers with those product codes of Sham Gardens Tahini should return them to the store for a full refund. Anyone with questions can call Recall Coordinator Omar Almerji at 810-919-3519, Monday through Friday, from 9 a.m. to 5 p.m. Eastern time.
Salmonella hits about two million Americans each year, hospitalized around 23,000 and kills about 450, according to the Centers for Disease Control. The usual hit of salmonella brings fever, diarrhea, nausea, vomiting and abdominal pain.