Massive 30 liter airlock (largest airlock available) and up to 1400 plate capacity.
Download Brochure
Features:
Four manual, oval glove ports enable you to work gloved or bare handed. Each gloveport also acts as a mini-airlock so you can transfer up to 10 plates through each as you insert your arms.
---
Massive 1000 - 1400 Petri dish capacity with ample work space
---
Large 30 liter airlock with powered internal door provides effective sample and equipment transfer in the fastest possible time whilst ensuring the minimum amount of oxygen is introduced into the chamber.
---
Color, touch-screen control panel for ease of use and for visual display of parameters such as temperature, humidity, and airlock cycle status. Features password protected user levels
---
Dual gas operation and automatic commissioning cycle
---
Constructed from 10mm thick annealed acrylic, most robust chambers available
---
Tangential fans create laminar flow in chamber, internal atmosphere is constantly being circulated over catalyst, Anotox, and heating mat for a consistent and strictly anaerobic environment
---
Double internal power socket available, 2 Amp max
---
Customized trolley hardware available, makes moving the workstation easy and fast.
---
Gas requirements: 1 x ANO2 = 10% H2, 10% CO2, 80% N2 -OR- 1 x ANO2 and Nitrogen
---
No requirement to bake catalyst, simply replace catalyst and Anotox annually
---
Anaerobic Conditions
Monitoring System

This factory-fitted option monitors and displays real time oxygen levels within the workstation. Depending on the percentage of oxygen present, the chamber/airlock symbol on the touch screen will read green, yellow or red. The electronic Anaerobic Conditions Monitoring System is complete with oxygen sensor and a special software package. The oxygen sensor is located inside the chamber for accurate, real-time readings. The sensor is easily and quickly calibrated via the touch screen.
---
Trolley

Our custom-designed trolley frees up bench space and allows the chamber to be moved. The trolleys are built with high quality tubular steel and smooth rolling lockable wheels. They offer a sturdy and stable frame to support your use of our anaerobic and microaerophilic workstations.


See Details
---
Gas Pressure Monitor

Designed as a method of monitoring the gas supply. The system will indicate the status of both sides of the switchover: FULL – IN SERVICE, and DEPLETED. When a cylinder or cylinder bank is depleted, the green light will change to a red light, and the audible alarm will sound.


See Details
---
15cm Letterbox

Ideal for quickly introducing small quanitites of samples and supplies
---
Spare Cable Gland

Used to accommodate a power or data cable without affecting the chamber conditions
---
Data Logging

Access temperature, humidity, chamber pressure and anaerobic conditions. Stores up to 30 days of system information, accessed via USB port.
---
Internal Storage Trays

Maximum 2 per unit; positioned under the shelf
---
10 Plate Dish Rack

Easily stack and move 10 petri dishes. Prevents spills with a rigid design
---
Featured Videos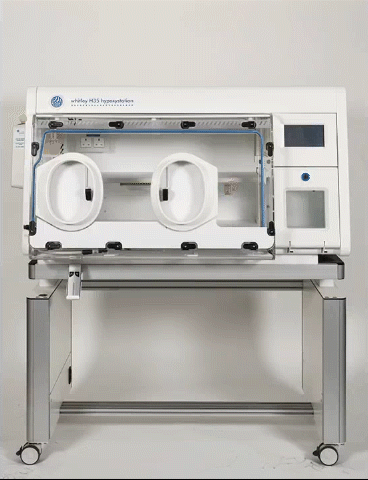 Motorized Trolley