The Whitley Workstation DG250 is the most compact and flexible anaerobic chamber available. The following are key features and benefits of the Whitley Workstation DG250 .
Whitley's cabinets are made of rigid polycarbonate shell (6mm thick front panels, 10mm thick side panels), provides for excellent visibility to contents inside cabinet. The rigid design allows for a controlled level of positive pressure by means of an independent diaphragm pressure switch.
Unique 'rapid lock' manually-operated portholes allow both access for the operator's arms and the transfer of up to 20 x 90mm Petri dishes. For inexperienced users, our new automatic gas refill system for sleeves ensures the internal atmosphere is not compromised by the transfer of oxygen through the ports. For more experienced users, the sleeves can be evacuated and gassed via the foot switch.
Novel 'lift-off' facility - the whole top can be disengaged easily frοm the base - allows the addition and/or removal of bulk samples and equipment. You can clean the internal surfaces very easily as the flat floor will contain any spills and there are no gaps through which loops or bottle caps can fall.
The optional single-plate entry system enables the user to rapidly introduce individual samples into the chamber-perfect for 'on-call' or emergency use.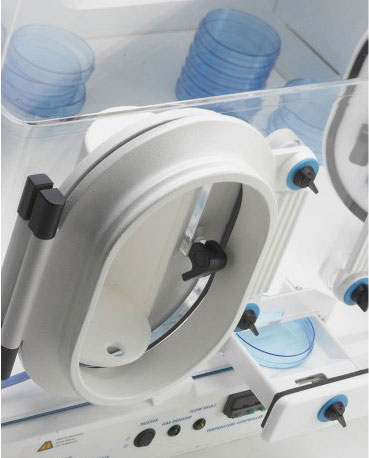 Patented use of Anotox for atmospheric conditioning. The use of Anotox allows for up to one year intervals before changing catalyst, also provides for better anaerobic growth environment by absorbing hydrogen sulfide and volatile fatty acids (normal by-products of anaerobic metabolism) which can impede the surface growth of anaerobes. The Anotox and catalyst sachets are easily replaced by folding the side panels into the center of the chamber; they are housed on either side of the chamber.
The entire Whitley cabinet serves as an incubator, no need for extra space to be taken up by additional internal incubators. Temperature control accurate to 0.10 C. The fan heating system continuously circulates the temperature and humidity controlled atmosphere directly through the palladium catalyst and Anotox, this insures even conditioning of the anaerobic environment.
The humidity can be controlled by the operator to prevent plates from drying out while simultaneously maximizing anaerobic growth conditions. The Whitley Workstation DG250 can be serviced without disrupting the integrity of the anaerobic environment. All key components are located outside the anaerobic cabinet. Standard safety features alert the operator with audible and visual alarms if a power failure occurs, gas runs out, or if there is a gas leak.
Specs
Whitley Workstation DG250
Capacity (Petri Dishes)
270 - 400
Dimensions
(L x D x H) in mm
810 x 760 x 635
Weight (Kg)
64
Gas Requirements
1 x ANO2 (10% H2, 10% CO2, 80% N2)-OR- 1 x ANO2 and Nitrogen
Gas Consumption (on average)
4-6 weeks on 2000 lb tank
Power Requirements
110 V, 50-60 Hz
Working Capacity
250 x 90 mm plates
Incubation Capacity
400 x 90 mm plates
Options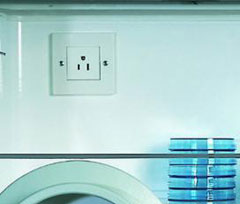 Internal Power Socket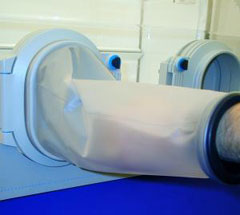 Automatic Sleeve Gassing
Single Plate Entry System
Featured Videos