Fill up to 900 plates per hour
MediaFill Automatic Plate Pourer
We are proud to introduce MediaFill™; the new plate pourer from Systec. MediaFill is the perfect companion to the popular MediaPrep line of automated media sterilizers. Connect MediaFill to MediaPrep™ and you have completely closed and sterile walk-away system for media preparation and plate pouring.
Download Brochure
---
Featured Systec MediaPrep and MediaFill Videos
Save Valuable Time
MediaFill can pour standard 90 mm, 60 mm and up 26 mm deep dishes. With a processing rate of up to 900 plates per hour, MediaFill provides valuable time saving with reliable efficiency. Three different carousel sizes are available: 220, 440 and 600 plates, unlike the MediaJet, which only has two carousel sizes.
All carousels have the EasyStack™ feature which allows users to load and unload a carousel full of plates. Transferring filled dishes is now fast and easy; after pouring is completed simply remove the carousel with filled dishes and replace with a second carousel full of empty dishes. Unload plates from the carousels at your convenience!
Intuitive Touch Screen Interface
MediaFill is controlled via an intuitive touch screen interface and includes a database of Petri dish brands to insure reliable operation with your dish supplier of choice. The internal control system allows the user to store up to 99 unique programs which are easily accessed from the touch screen.
The integrated peristaltic pump insures precise filling of media, a second pump is available for simultaneous dispensing of blood or other additives. Both pumps feature Drop-Stop™ control which prevents dripping of media between dish dispensing. This is an improvement over the MediaJet, which only offers a single pump.
Precise and Accurate Tube Filling
The MediaFill can be used as a tubefiller and in less than 30 seconds, it can switch from plate pouring to tube filling. The MediaFill plate pourer, in tube filling mode, can accommodate four racks of 13, 16, 20, 25 and 30mm diameter tubes.
13 mm 6 x 15 = 90 tubes/rack
16 mm 5 x 12 = 60 tubes/rack
20 mm 4 x 10 = 40 tubes/rack
25 mm 3 x 8 = 24 tubes/rack
30 mm 3 x 7 = 21 tubes/rack
Quality Manufacturing and Advanced Features
MediaFill is manufactured with a frictionless glass ring and stepper motors for silent and precise operation. The smooth aluminum surface is easy to clean with no holes or gaps where media can flow into. Shaft seals are installed on every moving axis to avoid agar penetration into the internal components of the machine. MediaFill also utilizes a UV lamp with 2.3 W UVC light emission ensuring sterile dispensing.
Innovative features include Peltier cooling for reducing plate condensation, shaker function for improved distribution of media into Petri dishes, connection to Imaje inkjet printer for direct printing on the sides of dishes (no more labels!), Ethernet connection for remote monitoring / control from a PC and optional pager function which alerts the operator via wireless pager of completed cycles and other events. This feature is unique to the MediaFill, as MediaJet and other plate pourers do not offer ethernet connection or remote monitoring.
Specs
| | Mediafill | Stack 220 | Stack 440 | Stack 600 |
| --- | --- | --- | --- | --- |
| Length (mm) | 683 | 683 | 683 | 683 |
| Width (mm) | 662 | 662 | 662 | 662 |
| Height (mm) | 348 | 410 | 760 | 1110 |
| Diameter (mm) | | 566 | 566 | 566 |
| Overall Height (mm) | | 800 | 1140 | 1500 |
| Max Petri dish stacking height (mm) | | 330 | 680 | 1030 |
| Petri dish diameter (mm) | | 90 | 90 | 90 |
| Petri dish height (mm) | | 12 to 26 | 12 to 26 | 12 to 26 |
| Capacity (height of Petri dishes - 16.5mm) | | 220 | 440 | 600 |
| Weight (kg/lbs) | 37.5 / 82.5 | 44.4 / 98 | 45.9 / 101 | 47.4 / 104 |
| Stacker (without Petri dishes) | | 6.9 / 15.2 | 8.4 / 18.5 | 9.9 / 21.8 |
Options
MediaFill Clean Bench
Custom designed for MediaFill to insure a sterile filling process.
Additional Carousels
MediaFill carousel with capacity of 440 dishes - Available for 100mm, 60mm or 35mm (diameter) dishes
MediaFill carousel with capacity of 600 dishes - Available for 100mm (diameter) dishes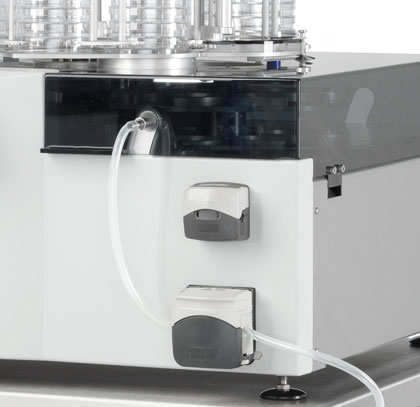 Second Pump
MediaFill allows for the control of a second, integrated pump unit. This accessory is for mixing additives such as blood into the agar immediately before pouring the plates, minimizing thermal denaturation of the additive.
---
MediaPro Petri Dishes
High quality plates designed for optimal performance in automated plate filling machines, including the MediaFill Plate Pourer.
MediaPro 15 Petri Dishes - Dimensions: 100mm x 15mm
MediaPro 25 Petri Dishes - Dimensions: 100mm x 25mm
MediaPro 60 Petri Dishes - Dimensions: 60mm x 15mm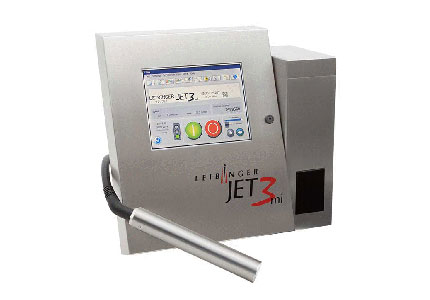 Jet3 inkjet printer
The JET3 printer connects seamlessly to the MediaFill plate pourer, providing your lab with total traceability by printing directly on the sides on Petri dishes as they are filled automatically by MediaFill. The JET3 can print up to 2 lines of text/data, barcodes and even images on the sides of dishes.
Plate Cooling
The optional Peltier cooling device is built directly into the surface of the filling chamber and accelerates the solidification of agar helping to minimize condensation.
---
Software Option
This software module allows users to connect MediaFill to a PC to download all filling process data.
Remote Monitoring
For true-walk-away functionality, MediaFill will page users if a problem occurs, or at the end of a cycle run when user intervention is required.
Stainless Steel Cart
Stainless steel cart accommodates MediaFill plate pourer and Jet3 inkjet printer, includes storage shelf andcaster wheels. Can be custom built to client specifications.