EZ-CHROM* Staph aureus is a chromogenic medium for isolation and direct differentiation of Staphylococcus aureus in clinical and industrial samples. Product can be ordered as 20 prepared plates, or 5L Packs (sufficient base powder & supplement to make 5 liters of Agar) of powdered media.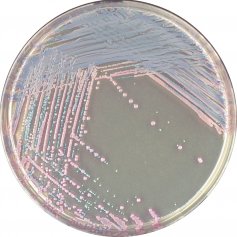 EZ-CHROM Staph aureus allows easier differentiation of S. aureus from food samples and is of considerable help in identifying suspect colonies.
S.aureus is often found in the environment, on food preparation surfaces and also in certain uncooked foods (dairy products, salads, sandwiches, etc.). It is important to check the presence of S.aureus before and after the sterilization process.
The conventional medium for S.aureus is Baird-Parker, which has to be supplemented with RPF (Rabbit Plasma Fibrinogen or Egg Yolk Tellurite), rendering the plate manufacturing delicate and complex. This supplementation process reduces the shelf life of the poured plates to a couple of weeks. On the contrary, EZ-CHROM Staph aureus comes with all the compounds already in the agar, without the need for additional supplementation, and remains stable for months after the DOM (Date of Manufacture).
S.aureus on EZ-CHROM Staph aureus media will be read as pink to mauve colonies. All other bacteria will appear as colorless, blue or will be completely inhibited. Results yield in a 24 hour time frame.
---