GMP capable isolator providing sterile laminar airflow under strict anaerobic conditions.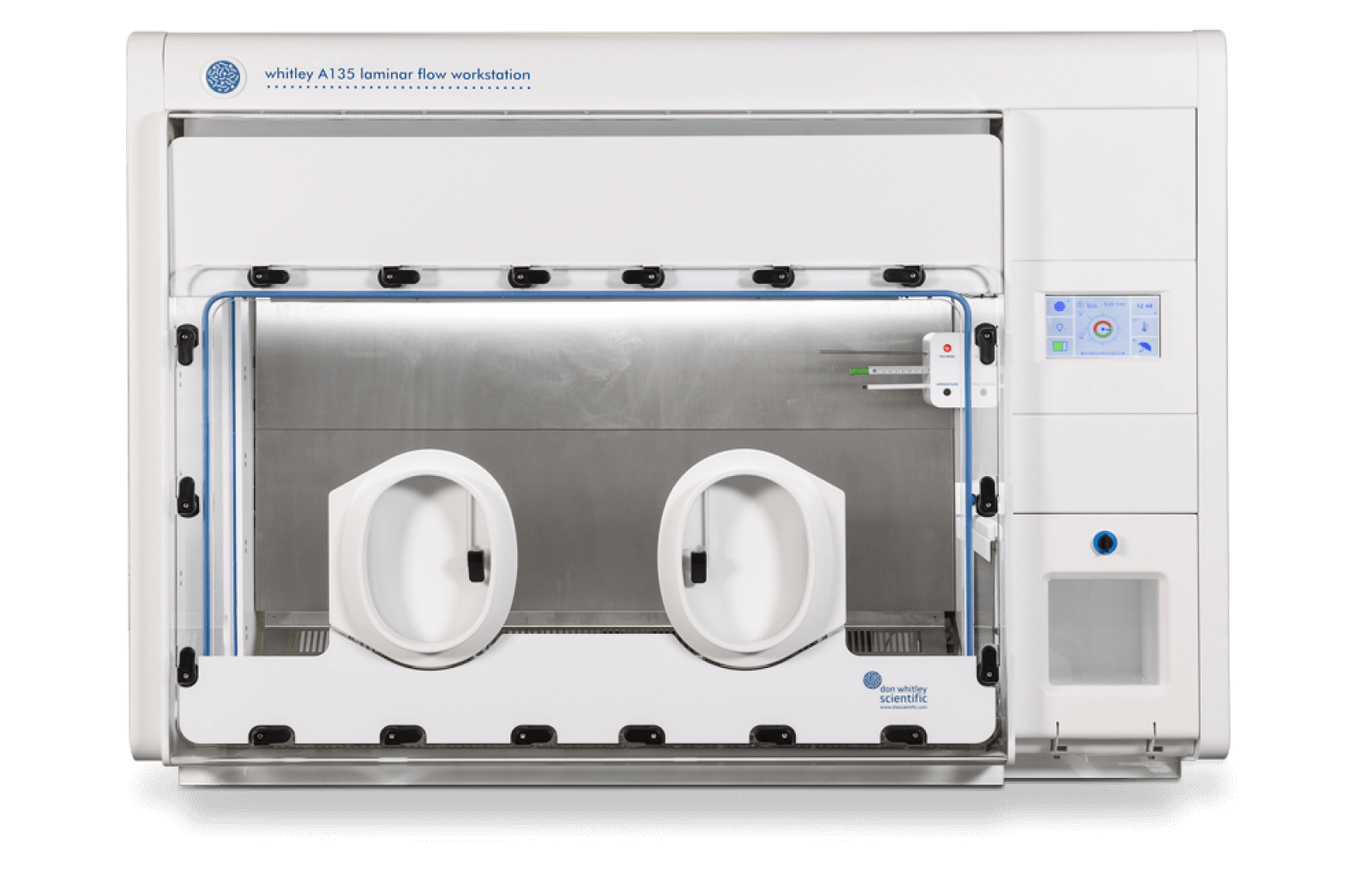 Download Brochure
Features:
A color, touch-screen control panel for ease of use and for visual display of parameters such as temperature, humidity, and airlock cycle status.
---
Automated humidity control with no user maintenance
---
The GMP Workstation exceeds the requirements of Grade A air cleanliness (EU GMP) and ISO 14644-1 Class 3 both at rest and in operation.
---
Rapid, built-in transfer airlock
---
Internal storage shelf
---
Dual gas operation and automatic commissioning cycle
---
Constructed from 10mm thick annealed acrylic, most robust chambers available
---
Tangential fans create laminar flow in chamber, internal atmosphere is constantly being circulated over catalyst, Anotox, and heating mat for a consistent and strictly anaerobic environment
---
A135: 560 liter work space capacity
---
No requirement to bake catalyst, simply replace catalyst and Anotox annually
---
Chamber can be used for microaerophilic incubation, simply remove Anotox and catalyst and connect pre-mixed gas tank
---
Touch screen interface to control all chamber settings, can be password protected
---
Double internal power socket, 2 Amp max
---
---
Trolley

Our custom-designed trolley frees up bench space and allows the chamber to be moved. The trolleys are built with high quality tubular steel and smooth rolling lockable wheels. They offer a sturdy and stable frame to support your use of our anaerobic and microaerophilic workstations.


See Details
---
15cm Letterbox

Ideal for quickly introducing small quanitites of samples and supplies
---
Spare Cable Gland

Used to accommodate a power or data cable without affecting the chamber conditions
---
Data Logging

Access temperature, humidity, chamber pressure and anaerobic conditions. Stores up to 30 days of system information, accessed via USB port.
---
Internal Storage Trays

Maximum 2 per unit
---
Whitley Petrifoto
Imaging System

Conveniently fits inside all Whitley Workstations and allows users to capture sample photographs during incubation
---
Anaerobic Conditions
Monitoring System

Monitors and displays real time oxygen levels within the workstation. Depending on the percentage of oxygen present, the chamber/airlock symbol on the touch screen will read green, yellow or red. The system is complete with oxygen sensor and a special software package. The oxygen sensor is located inside the and quickly calibrated via the touch screen
---
Integrated Touch
Screen Computer
System

For easy data entry the touch screen is conveniently mounted inside the chamber for ergonomic use and connects to an external computer
---