Select size range
65 - 200 Liter

210 - 650 Liter

580 - 1580 Liter
Type
HX-65
HX-90
HX-100
HX-150
HX-200
Chamber Dimensions in mm.
(diameter x depth)
400 x 500
400 x 700
500 x 500
500 x 750
500 x 1000
Chamber Volume in Liters
65
90
100
150
200
External Dimensions in mm.
Height
1430
1430
1530
1530
1530
Width
690
690
790
790
790
Depth
910
1110
930
1180
1430
Net Weight (kg)
125
145
250
300
350
Type
HX-210
HX-320
HX-430
HX-540
HX-650
Chamber Dimensions in mm.
(diameter x depth)
740 x 500
740 x 750
740 x 1000
740 x 1250
740 x 1500
Chamber Volume in Liters
210
320
430
540
650
External Dimensions in mm.
Height
1683
1683
1683
1683
1683
Width
930
930
930
930
930
Depth
1035
1285
1535
1785
2035
Net Weight (kg)
450
480
530
600
660
Type
HX-580
HX-780
HX-980
HX-1180
HX-1380
HX-1580
Chamber Dimensions in mm.
(diameter x depth)
1000 x 750
1000 x 1000
1000 x 1250
1000 x 1500
1000 x 1750
1000 x 2000
Chamber Volume in Liters
580
780
980
1180
1380
1580
External Dimensions in mm.
Height
1850
1850
1850
1850
1850
1850
Width
1255
1255
1255
1255
1255
1255
Depth
1450
1700
1950
2200
2450
2700
Net Weight (kg)
810
850
920
990
1050
1110
Innovative automatic safety door lock
Easy and safe. When the autoclave lid is closed, the lid is automatically locked by a circumferential ring system. A special lip seal made of heat resistant silicone provides reliable sealing. As steam pressure builds within the sterilizer, the seal becomes tighter.
The lid also opens easily – either at the push of a button or automatically at the end of a sterilization cycle.
The door-locking system on this high capacity autoclave, is temperature dependent and adheres to national and international safety standards. The door remains locked as long as there is excess pressure in the chamber. The lid, like other parts of the pressure vessel and housing, is made of stainless steel. The modern design faceplate, which also contains the control panel, display and part of the control technology, is made of heat resistant and insulated plastic. There is no risk of the autoclave operator coming into contact with hot components.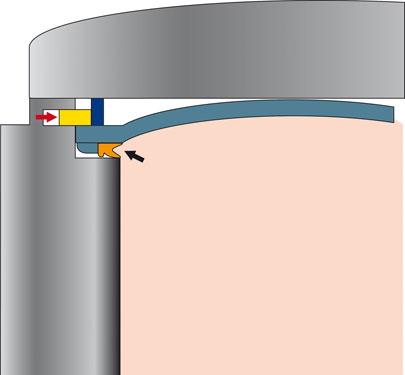 ---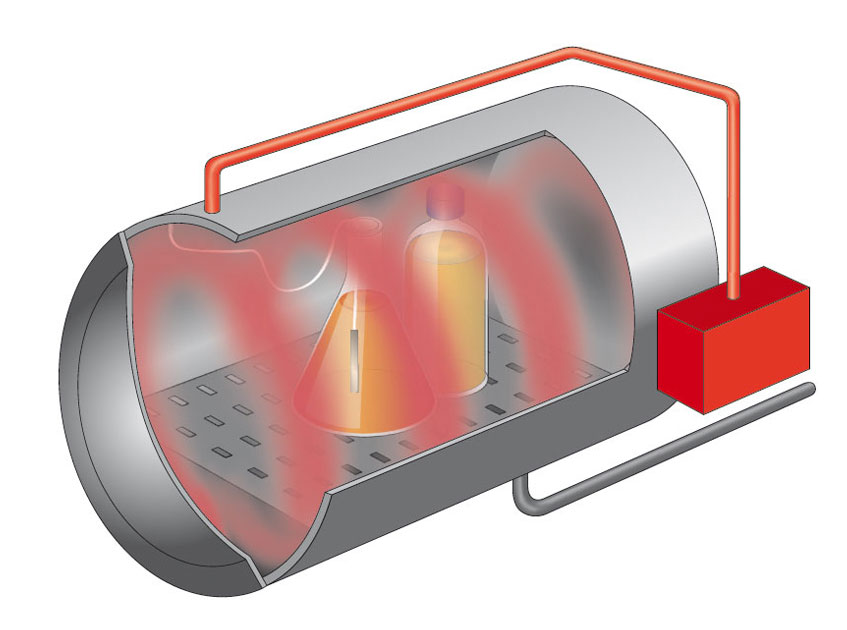 Steam generation
A steam generator is incorporated in the sterilizer housing providing substantial benefits:
No heating elements and no reservoir for dirty water in the chamber
With stand-by pre-heating option, only 10 min. heating time to 121° C with an empty chamber
Improved removal of air from the empty chamber via pulsed heating (rapid attainment of optimal steam atmosphere, even without a vacuum)
Accuracy better than ± 0.5° C with empty chamber
Quicker cooling as neither the hot water in the chamber nor the separate steam generator need to be cooled
After cooling, steam is immediately available for the next sterilization run.
---
Pressure-safe up to 5 bar/150 °C
The Systec H-Series high capcity autoclave units are the first of its kind to be designed for higher pressures and temperatures. The standard pressure sterilizer chamber is designed for 5 bar/150 °C. If the expanded pressure and temperature model is selected as an option, all control and safety components are adapted to the higher temperature and pressure. This option may be retrofitted to existing H-series horizontal floor standing autoclave units.
Systec H-Series high capcity autoclaves are equipped direct from the factory for sterilization temperatures up to 140 °C and 4 bar of pressure.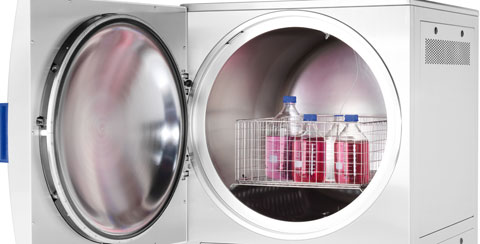 ---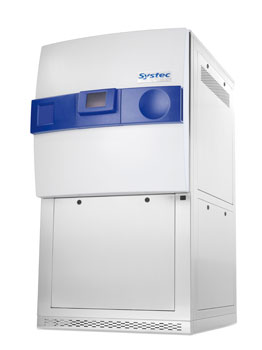 Quality materials quality manufacturing
The pressure vessel is made of corrosion-resistant electro-polished stainless steel 1.4571 (V4A) AISI 316 Ti and therefore very easy to clean. The large capacity autoclave framework and housing are also made of stainless steel. The highly efficient, high-quality Hanno-Tect insulation material releases no particles and therefore the Systec HX-Series sterilizer is ideal for use in clean room environments
Exhaust steam is condensed automatically via a PT 100-regulated cooling system. This prevents odors and protects waste water piping.
---
Controls – new generation
The Systec high capacity autoclaves have a "comprehensive intelligence": Pressure is controlled via an electronic pressure transducer. Additionally, there is a flexible temperature sensor in the sterilization chamber or in a reference vessel (for liquids) and another sensor at the coldest part of the chamber, the condensate outlet. The microprocessor, specially developed for our laboratory autoclave, controls all relevant functions such as steam pressure, temperature and sterilization time as well as optional rapid cooling, pre / post-vacuum and drying.
Menu-presented instructions in easy to read text form. An advanced touch screen with acoustic confirmation signal. Ergonomically located in a logical and easy to operate position.